Inspiration
Every couple is different. Every wedding is different, and boho never means the same thing. We are proud of every project that puts a smile on the Newlyweds' and their guests' faces. We invite you to browse through a selection of our accomplishments!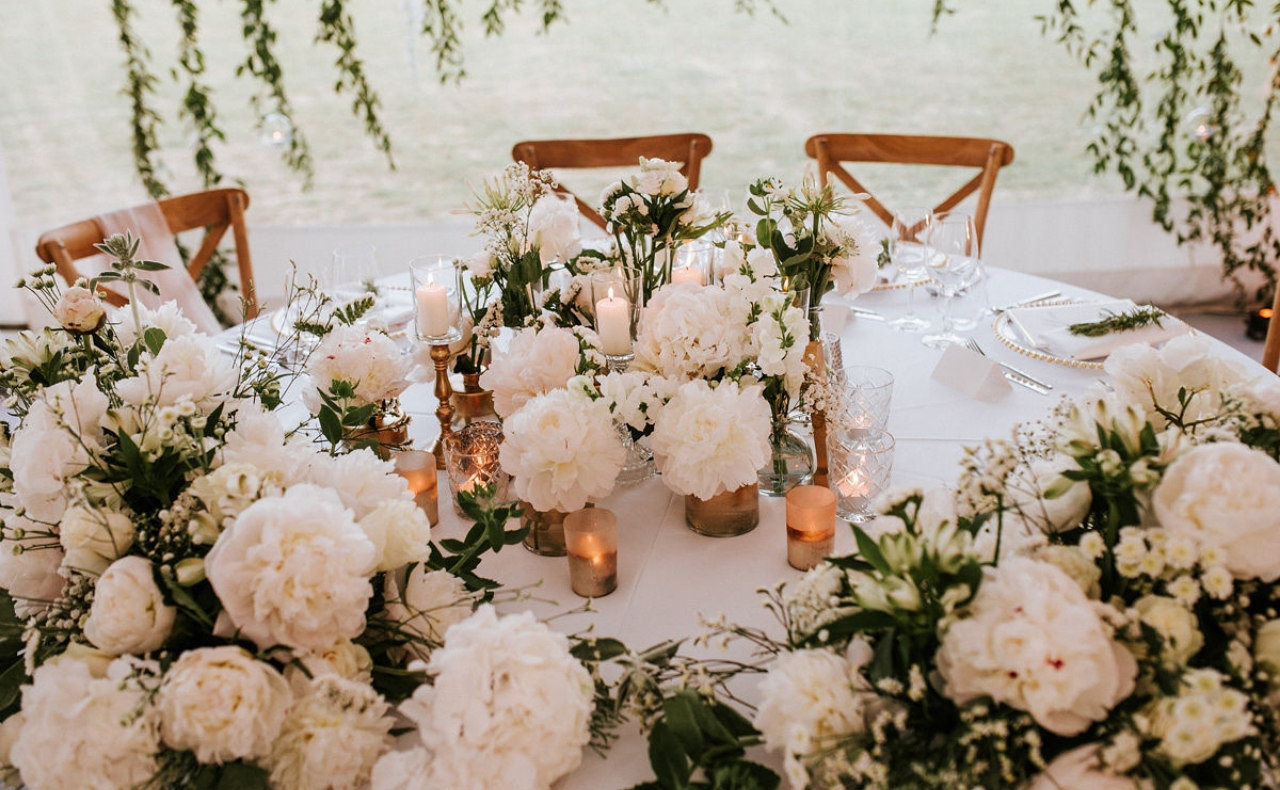 It was a unique and demanding adventure! Clients with unconventional approaches certainly pose a challenge, and an event project requires a lot of attention, time and creativity. In this case, we had plenty of attention and creativity. However, we lacked time. The final effect delighted the Bride & Groom and their guests, and we consider that to be the most important determinant of success!
A huge advantage of the Rozalin Palace is the opportunity to organize an outdoor Catholic wedding ceremony. Marta and Łukasz got married in a gazebo immersed in flowers, engulfed by large, paper roses. A mirror avenue ran to the altar, spectacularly reflecting the sun's rays and beautiful sky. It's difficult to imagine a more romantic wedding venue!
The highlight of the evening. Two-meter tall, ten tier, absolutely extraordinary. The cake itself made quite an impression, but when stunning pyrotechnic fountains and sparkling windmills set off during the cake-cutting ceremony, it transformed into a night spectacle perfectly complementing an already impeccable evening.
Everything was there! Delicious welcome lemonades, ambient Prosecco Van during a cocktail, a toast with the finest champagne in honor of the Newlyweds. The interior of the tent was immersed in an abundance of red roses. Each table shone with gold accessories. The guests were also captivated by the parquet floor boasting large flowers, naturally red in color. No one could resist taking a photo of a relaxation zone. All elements were planned out with meticulous attention to detail in perfect harmony with the style of the wedding reception. Łukasz took care of the bar supply boasting the finest of spirits. We created a stunning mirrored bar filled with candles and flowers to match his exquisite selection.
Sweet tooth lovers didn't want to leave the Candy bar - one of the key elements of decoration. Red, black and gold, jewelry cookies and muffins were arranged on gold cake stands, surrounded by flowers and candles. One could be satisfied just by looking at it all.
And last but not least the musical attractions: as always, the professional band The Customs treated their guests to an unforgettable experience with the greatest Polish and international hits. The musical feast was complemented by Electric Girls – four extremely talented bubbly girls with unstoppable energy on stage. The perfect combination of listening and dancing.
JAGNA & GRZEGORZ'S WEDDING
Preparations for each wedding begin with a search for that perfect wedding venue. And what if it doesn't exist? Then we have to create it – from scratch in a spot where our couple feels happiest. That was the case this time! We organized Jagna and Grzegorz's wedding reception in Masuria, in their park, where they both feel serene and happy. They invited their guests to their land of happiness that they explore every day. On their special day, they only added a little splendor to it!
We built the wedding tent from scratch on a vast green clearing that was part of our clients' Masurian estate. Each project of this magnitude requires adequate preparation – area measurements and set up, effective wedding reception logistics – how will the supplier vehicles access the venue?
When should they start preparing? Where will we get the electricity from? How will we heat the tent or cool it down? How are we going to organize sanitary facilities? We found answers to all these questions together with the best suppliers in the industry. We visited the location with each supplier to find solutions to many difficult issues and complex problems. The end result was fantastic!
An open-air civil ceremony is easier to organize than a church wedding. But just because it's shorter doesn't mean it will be less glamorous. This is a perfect opportunity to show off when it comes to decorative and musical settings.
In the case of this wedding, the involvement of families had a huge impact on its atmosphere. It was the loved ones who took care of emotions and moving words, showering the Bride & Groom with support and love, and their guests with many heart-touching moments!
It was like a fairytale! The tent looked absolutely spectacular – white tarpaulins were hidden under flowers, grasses, and a thousand light bulbs. The professional scene attracted attention, which went very well with the band. The Second Week band made all the guests involved in their musical journey making them dance and sing, giving them a true concert experience.
Of course, we had to deal with unforeseen and difficult situations. The weather turned out to be crucial. A party in June is a great chance for a beautiful, sunny day, but also a powerful storm. Such was a case this time – wind, rain, thunder and lightning caused our team and guests to worry a little, but fortunately, they disappeared as quickly as they appeared. The party lasted until dawn!
Sometimes it is the wedding reception that has to make the greatest impression on guests, sometimes it is meant to be a suitable background for the Bride & Groom. That was the case this time! Monika and Paweł – beautiful and stylish, shone brightly with happiness, and all the rest was there to emphasize this glow. The effect was spectacular – a sunny day in June allowed guests to fully enjoy both the beauty of the decorations and the culinary talent of the Rozalin Palace's Chef! And once again we have organized a magnificent event, making someone's dream come true.
The palace in Rozalin is extraordinary and has a potential that only needs to be skillfully utilized. That is the reason why so many of our clients decide to organize their wedding reception there. The privacy provided by the owners of the facility is tempting – the palace with a tent, wedding gazebo and a few hectares of an ancient park offers an environment that encourages one to celebrate the most significant life events with their loved ones and friends.
WEDDING CAKE AND CANDY BAR
There was an array of culinary treats during this reception. An exquisite 4-course dinner served at the beginning of the party had made quite an impression on all the guests.
Afterwards, dishes from many corners of the world appeared in buffets and Chefs crafted fresh tartare at live cooking stations. However, the unquestionable star of the party was a 2-meter tall, multi-tier, fabulously decorated wedding cake.
Served after dark, in front of the tent, surrounded by sparkling windmills, it delighted with both its appearance and taste. Throughout the reception, the Candy bar was also at the guests' disposal – filled to the brim with cookies, cupcakes and macarons looking like small works of art. It was elegant, pink and sweet!
This wedding was extraordinary for so many reasons. One of them was the fact that we had been preparing for it longer than we had anticipated. In 2020 when we had almost everything ready, Covid-19 locked us in our homes. Asia and Łukasz decided to postpone their party, keeping faith that it will turn out to be fantastic after all. And so it happened!
ALL IS NOT LOST THAT IS DELAYED...
The Covid-19 pandemic has ruined plans for so many young couples. Some of them stopped to plan their weddings. Others, like Asia and Łukasz, worked with us even harder on making their wildest dreams come true – after all we had plenty of time!
We found this approach to be quite unusual and extremely valuable. By putting their trust in us, the couple has proved their belief that together we can overcome any obstacles - even this global crisis. Now we know for certain that postponed weddings are in no way less attractive, and their vibrant atmosphere is extraordinary.
Is it possible to organize an outdoor wedding in October? Of course, the most depends on the weather, on which we have the least influence. Taking into account climate change, by all means, such a plan can be achievable. However, we always create a plan B, in case of unforeseen rain, but Asia and Łukasz's wedding proved that even in autumn you can say "I do" engulfed by greenery, the sound of trees and glorious sun. Mała Wieś Palace dazzles with a magnificent gloriette in the very heart of a wonderful garden – a wedding there is an extraordinary experience, especially when complemented with a mirror avenue, sea of white flowers and light fabrics.
Asia and Łukasz said "I do" surrounded by bridesmaids, bridesmen, family and friends, with a smile on their lips, despite the cool breeze that made people stay in their coats. At nightfall, the gloriette was romantically lit, as were most of the trees in the garden. As a result, the space acquired a unique character, and the fireworks show accompanied by Jon Bon Jovi's song specially selected by the Groom made a staggering impression.
ROMANTIC GARDEN IN THE PALACE
These decorations did not surprise with their color – the Bride & Groom opted for a traditional combination of white, gold and bottle green. It was the grand scale of the floral arrangements that made a striking impression – flowers woven around the gazebo behind the table of the Bride & Groom and round structures above the guests' tables. Hydrangeas, roses and orchids were hanging everywhere, and hundreds of candles burned brightly between them. The end effect was spectacular, especially at nightfall, when effect lighting on the ceiling and walls was turned on. A magnificent scene featuring a "starry night" background made the room look more professional. Against such a background, the band looked and sounded even better. Set on a mirrored table shaped like a wave was a Candy bar, filled with flowers and jewelry sweets, their colors complementing the style of the wedding reception. For a while, it was not known whether it was better to taste it or simply stare at it, but that was our goal. There was no shortage of entertainment. The party was led by the one and only, energetic Andrzej Pieńko. At nightfall, guests savored the taste of the wedding cake while watching the fireworks show. After having fun inside the photo booth, it was time for the unveiling and capping ceremony. Followed by dancing until dawn and a lot of wonderful photos that will stay with us and the Bride & Groom forever!
ANIA & KRZYSIEK'S WEDDING
As a wedding planner, I have seen it all, more and less successful wedding venues. However, this location surprised even such an experienced professional like me. At first glance, the place looked like the sort of place one should get away from as soon as possible….Nevertheless, it was worth exploring it to find the second floor which hides the most original wedding location in Poland!
INDUSTRIAL MEANS BEAUTIFUL
It has to be bright, white, pristine, spacious ... everyone has a different idea of an ideal venue for their wedding. Most certainly no one has ever named the industrial hall to be one. Ania and Krzysiek were definitely not a couple like others. They were original, friendly, laid back and quickly found themselves feeling at ease in the atmosphere of industrial Łódź. Among the old, industrial buildings there was a hidden, long and slightly dark staircase, which was illuminated by lanterns and decorated with stylish carpets. Upon entering the hall, the guests were dazzled with red walls of the old building and a stunning, contemporary flower and lightning arrangement. Above the Newlyweds' table, everyone could admire a floral gazebo and an incredible neon sign - "Better together..." that will be the motto of their life ever after. The long, raw, wooden tables where the guests sat were decorated with an array of flower and greenery compositions as well as a sea of candles.
Is it possible to create a perfect, dream place for a ceremony in such a location? Yes, it can be done! A tall stand adorned with white flowers, greenery and white, light fabric was placed against the red, brick wall background. Rows of white chairs for guests stood in front of it and a delicate white carpet was positioned in the centre. The entire event was romantic, but not in a sweet or glamorous way. It was a modern version of romanticism, raw, surprising – just like Ania and Krzysiek. This evening is a story about how to transform a totally unconventional wedding venue into an extraordinary place, full of love and romanticism, which at the same time reflects the character of the couple. And you can decide for yourself if we managed to achieve that by browsing through the photos!
KAROLINA & ŁUKASZ'S WEDDING
Italian wedding in Kujawsko-Pomorskie
The palace we found is an absolute gem distinguished by a mesmerizing garden and unique architecture, as well as an Italian factor omnipresent in every corner. So why not make use of what is already present and give the guests an Italian wedding in Kujawsko-Pomorskie?
Italy is a country full of diverse colors and intermingling styles. Inside the palace designed by a renowned Italian architect Henryk Marconi, one can immerse in a unique ambience of sunny Italy, omnipresent in the interiors and garden. To make use of both of these spaces, we organized an outdoor wedding ceremony engulfed by lush greenery and a wedding reception in the stylish interiors.
In the garden, amidst the boxwood hedges, an exquisite wedding venue appeared, sky blue and yellow. Bright, luscious, filled with characteristic ceramics and lemons. 100 percent Italian! It was that very spot, with their loved ones by their side accompanied with the alluring sounds of the saxophone, where Karolina and Łukasz said "I do". It was warm, romantic and so touching.
After the wedding, the Bride & Groom led their guests to the dining room inside the Palace. There, the Newlyweds sat down with spectacular Italian frescoes behind them and with their guests around them. Each table was named after a different Italian city/region and decorated with yellow-blue flowers and fruits. A wedding cake was decorated in the same style. At nightfall, the cake-cutting ceremony took place in front of the Palace, accompanied by a fireworks show and Limoncello. Certainly, the next day, Karolina and Łukasz could both exclaim - La vie est belle!
PATRYCJA & PETER'S WEDDING
Wedding destination Lake Como
This project can be described in two words – TRUST AND INSPIRATION. It started with a phone call from the Bride who asked: Kasia, we are planning a wedding, we want you to organize it, what's captivated you recently? Where would you like to take us for a unique weekend getaway? There could only be one answer: Como. And so it happened!
Lake Como is one of the most picturesque places in Italy that I have ever visited. Located in Lombardy, it attracts tourists and Newlyweds from all over Europe. Does this mean, however, that it is not worth planning a celebration there? Definitely not! Engulfed by a mountainous coastline, the lake impresses with countless mountain towns and almost every one of them offers a unique location for a wedding ceremony. In one such Villa, on a terrace boasting a striking view of the water, Patrycja and Peter said "I do". And what some may find surprising, they first saw this place just two days before their wedding, trusting our recommendations. It was romantic, it was beautiful and touching, although very intimate.
Only 9 people took part in the ceremony. Both the Bride & Groom as well as their immediate family arrived in Italy from Germany and Poland.
And it was where we finally got to know each other – in Italy, three days before the wedding, but we felt like we knew the Bride & Groom for a very long time. It is crucial to make the most of a place with so much potential. I took photographers and a video operator with me to Italy. Not only did they photograph the preparations and ceremony, but also went on a boat trip around Como with the Bride & Groom. The photos they captured during that session were one of the most beautiful I have ever seen in my life!
MANY ROLES OF A WEDDING PLANNER
Unconventional projects trigger peculiar emotions and require unique solutions. In this case, the couple decided to host an intimate wedding and only brought their most loved ones to Lake Como. Therefore, it was me who had to perform a traditional role of a wedding witness. It was a unique experience – I didn't just stand aside to watch the celebrations as a director, but I was at the very heart of it. I was no longer just a business partner for the Bride & Groom, but also a companion, witnessing one of the most important moments in their lives. This amazing experience will stay with me for a long time!
I still can't answer the question of what is more difficult: organizing a party for 300 persons or an intimate celebration for 9 guests. With the former comes a lot of logistical difficulties that need to be solved. With an intimate ceremony, the key question is how to make it extraordinary despite its small size. For Patrycja, Peter and their guests we have rented a space in one of the most beautiful Villas on Lake Como. It was one of the hotel rooms, with.... one table. But what a table it was! Beautifully covered, decorated with garlands of flowers suspended on special, golden structures above the entire dinner place. They formed a marvelous, small garden inside the historic Hall. Additionally, the highest level of service, Italian cuisine, wine and serene background music. I could not have planned a more perfect Italian wedding!
Do you have an entirely different idea?
Share it with us! Together, we will organize the party of your dreams!